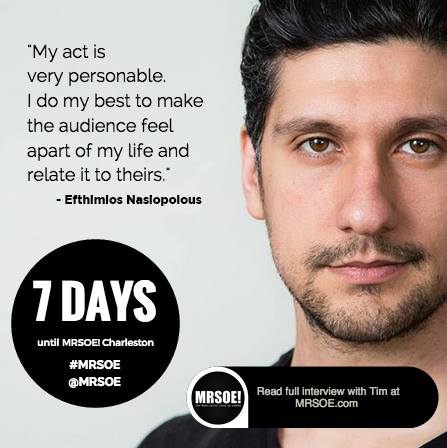 Three Questions with Efthimios Nasiopoulos
In an effort to get to know the comedians performing on MRSOE! in Charleston, SC, we sent them three questions and here are their answers…
What are you looking forward to most about your upcoming performance in Charleston?
Being the beautiful city it is, I've always wanted to visit Charleston. The architecture, the historical significance and the culture make it one of the most important cities in U.S. History. I'm also excited to perform with such a diverse group of comics. It's been 10 years since my last MRSOE and the line up is super talented.
How would you describe your comedy and what can people expect from you at the show?
My act is very personable. I do my best to make the audience feel apart of my life and relate it to theirs. I love deconstructing the pillars of society and hopefully when the audience leaves they'll not only feel like they enjoyed themselves but that they've shaken their heads wondering how much we all have in common.
What three things do you want people to know about you?
If there are three things I would want the people to know about me is 1) that I'm a huge baseball fan, 2) as a Canadian I can sing the American National Anthem pretty well, and 3) I can cook, although I look forward to eating as much Southern cuisine as possible during my stay.
If you want to see more of Efthimios, you can check him out on a new Prank Show he is on called "Prank You". You can see some of his best bits at YouTube.com/prankyou