10
Aug
2018
Toronto, ON (CAN)
Details
Time
: 10:30 pm - 2:00 am
Venue
: Comedy Bar
Address
: 945 Bloor St. W
State
: ON
Zip
: M6H 1L5
Phone
: 416-551-6540
Contact Email
:
neil@mrsoe.com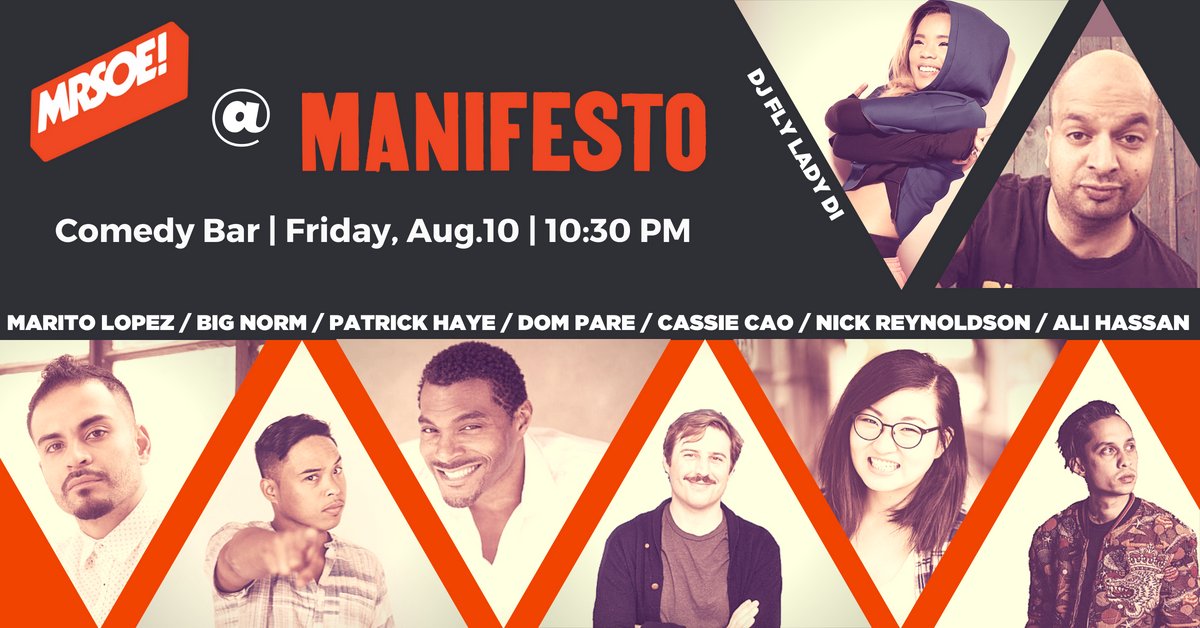 Manifesto Festival of Community & Culture presented by Aurora and Vancity Community Investment Bank, brings you the first ever Manifesto Discovery Series, August 9-14.
Popping up in multiple Toronto venues and DIY spaces, the series showcases artists, collectives and local organizations that are building community and culture through music, visual arts, dance, comedy and more. All leading up to the FREE festival grounds at City Hall with headliner Chronixx on August 17.
—
✦ The Event ✦
MRSOE! is a stand-up comedy show where…
Funny comes First.
Because at MRSOE! we know that funny is a universal language and can bring people together and funny is funny no matter what culture, creed or color you are.
✦ The All-Toronto Lineup ✦
➞ Dom Pare
➞ Big Norm
➞ Nick Reynoldson
➞ Marito Antonio Lopez
➞ Patrick Haye
➞ Cassie Cao
➞ Hosted by: Ali Hassan
➞ Music by: DJ Fly Lady Di
Stick around for the official MRSOE! afterparty right after the show!
✦ Info ✦
➞ $10 advance | $15 door – Tickets
➞ 19+
—
✦ Members Get It First ✦
Advance tickets, VIP passes, sneak peeks, meet and greets + more. Sign up for FREE here: www.mnfsto.com/membership
✦ Get At Us ✦
www.mnfsto.com
www.instagram.com/manifesto_to
www.facebook.com/ManifestoFestival
www.twitter.com/manifesto_to
www.youtube.com/manifestofestival