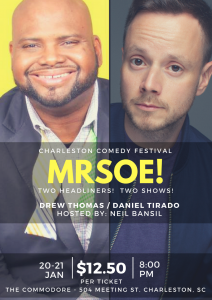 MRSOE!
21
Jan
2017
Charleston, SC, SC (US)
Details
Time
: 8:00pm
Venue
: The Commodore
Address
: 504 Meeting Street
State
: SC
Zip
: 29403
Contact Email
:
mostracesshow@gmail.com
MRSOE! (The Most RACES Show on Earth!) is a stand-up comedy show that is fully aware that the world is a diverse place. It's made up of all different colors, cultures, religions, and sexual orientations and…it's all good.
MRSOE! is for audiences who want to listen, understand and laugh at viewpoints that might be different from their own. We're not out to change anyone's minds…far from it. We just want to make you laugh!
The Most RACES Show on Earth! scours North America to find and present the best comedic talent from all different cultures, creeds and colors and if you're cool with us, then we're cool with you!
At the 2017 Charleston Comedy Festival MRSOE! Presents a special Double headlining set with two of the best comedians from our extensive roster and all hosted by the creator of MRSOE! Neil Bansil!
Featuring performances by:
Daniel Tirado (Queens, NY) – Three time veteran of the world-renowned Montreal Just For Laughs Festival, Daniel was featured on AXS TV's Gotham Comedy Live and was selected to perform as one of the top 10 finalists on StandUp NBC – a nationwide search for talent that auditions over 650 comedians each year. Tirado was also invited to play the Charleston Comedy Festival as well as the Halifax Comedy Festival. Daniel now lives in New York and performs regularly at some of the most prestigious clubs in the city.
Drew Thomas (Atlanta, GA) – Drew Thomas is a comedic storyteller. In 2010, he was featured on The Craig Ferguson Show, in 2015, he was a semi-finalist on NBC's Last Comic Standing and was also featured on AXS TV's "Live at Gotham". Some of the people Drew has graced the stage with, include Ron White, Jake Johansen, Don DC Curry, D.L. Hughley, Bill Burr, Jim Norton, Jon Reep, Bobby Slayton, Shaun Jones, Aries Spears, Bill Bellamy, Corey Zooman Miller and Craig Robinson. You definitely want to catch this guys show; insiders say he's one to watch. The best way to describe Drew's act, well he's just a natural.
Two shows!
Friday, January 20th, 2017 @ 8pm
Ticket Link:
http://charlestoncomedyfestival.citypapertickets.com/events/39849111/the-most-races-show-on-earth
Saturday, January 21st, 2017 @ 8pm
Ticket Link:
http://charlestoncomedyfestival.citypapertickets.com/events/39851384/the-most-races-show-on-earth