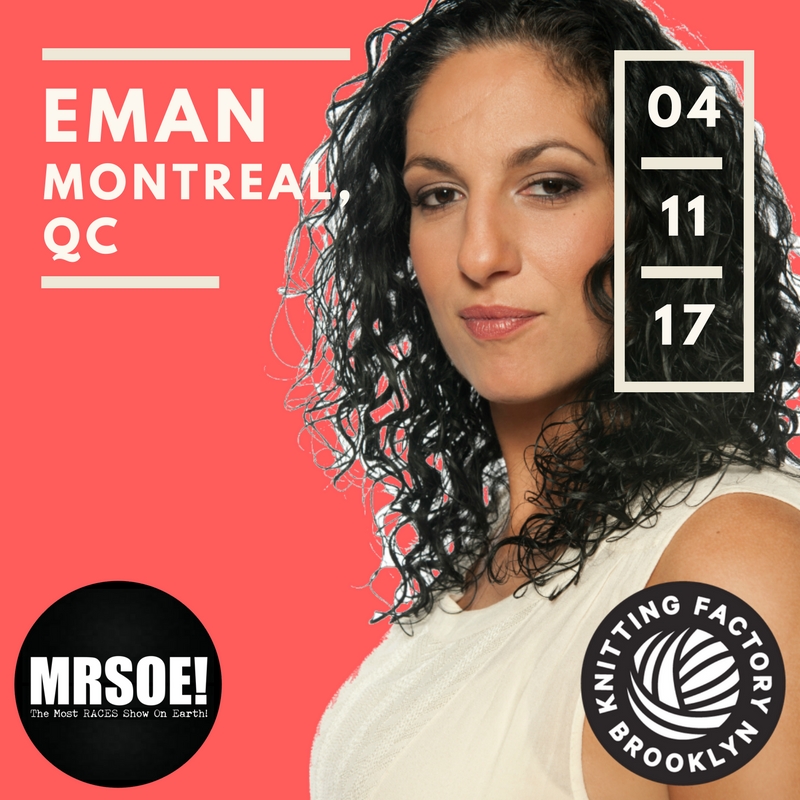 1) You're Palestinian, Muslim, Female, Lesbian, and from Canada. How have you managed to not get deported yet? Seriously though, do you feel like your comedy is a way of making people realize that they have nothing to fear?
I feel like it's partly my fault Trump got elected. The government saw my name on legal documents and freaked out. "What?? You let another one in? These people multiply!!" And here I thought my name was sexy, Eman El-Husseini it's like Hussein but Italian. Apparently not sexy at all just very Muslim.
2) What are you excited about the most for the upcoming shows in Brooklyn and Toronto?
Before performing on MRSOE! I was a fan of what it stood for and represents. Diversity is so beautiful and I know peeps in Brooklyn and Toronto really do appreciate difference. It's the hipster thing to do.
3) If you had to name a comedian who you wouldn't want to follow right now, who would it be (excluding famous people).
I never want to follow someone who is killing with horrible material I don't agree with. That's usually a red flag that if they like him/her they will NOT like me.
Eman will be performing at MRSOE! Brooklyn at the Knitting Factory on Tuesday, April 11th, 2017.  For tickets and info for MRSOE! Brooklyn, click here.
Eman will also be performing at MRSOE! Toronto at Adelaide Hall on Wednesday, April 12th, 2017 & Thursday, April 13th, 2017.  For tickets to the April 12th show, click here.  For the April 13th show, click here.