About Zooman Miller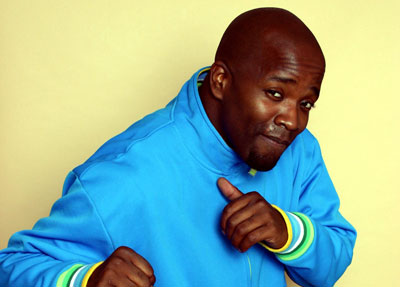 If entertainment was a buffet, then Cory "Zooman" Miller would offer just about every dish one could want. Aside from being a headlining comedian, Miller can sing, rap, dance, act and produce. With more talent than he knows what to do with, Miller has managed to incorporate all of his abilities into one entertaining act, regardless of how it's classified.
As a comedian, Zooman has headlined at clubs and colleges across the nation as well as appeared on Comedy Central, NBC's "The Tonight Show," HBO's "Def Comedy Jam," BET's "Comic View" and "Showtime at the Apollo." He has also traveled all over Europe performing for the U.S. troops.
[wolf_images_slider layout="mobile" slideshow_speed="6000″ ids="1840,1841,1842,1843″]
[wolf_video url="https://vimeo.com/152891677″]
[wolf_video url="https://www.youtube.com/watch?v=8Wv4XXqj3JQ"]
[wolf_buttons_container alignment="center"][wolf_button text="Get Notified!" color="border-button" url="http://eepurl.com/usUbb"][/wolf_buttons_container]
Like the MRSOE! Facebook Fan Page for ticket giveaways, tour dates, and more!
Or follow along with us on Twitter or Instagram!
[wolf_theme_socials services="facebook,twitter,instagram," type="circle" size="4x" target="_blank" hover_effect="fill-in" inline_style="margin-top:30px;" custom_style="yes" icon_color="#ffffff" icon_color_hover="#000000″ border_color_hover="#ffffff"]
Check out the other comedians on the MRSOE! 2016 North American Tour
[wolf_linked_image image="1496″ image_size="portrait" image_style="shadow" text="Dave Merheje -" secondary_text="Los Angeles, CA" text_color="#ffffff" overlay_color="#dd3333″ link="url:http%3A%2F%2Fmrsoe.com%2F2016-north-american-tour%2Fdave-merheje%2F||target:%20_blank"]
[wolf_linked_image image="1494″ image_size="portrait" image_style="shadow" text="KT Tatara -" secondary_text="Los Angeles, CA" text_color="#ffffff" overlay_color="#dd3333″ link="url:http%3A%2F%2Fmrsoe.com%2F2016-north-american-tour%2Fkt-tatara%2F||target:%20_blank"]
[wolf_linked_image image="1503″ image_size="portrait" image_style="shadow" text="Mia Jackson -" secondary_text="Atlanta, GA" text_color="#ffffff" overlay_color="#dd3333″ link="url:http%3A%2F%2Fmrsoe.com%2F2016-north-american-tour%2Fmia-jackson%2F||target:%20_blank"]
[wolf_linked_image image="1815″ image_size="portrait" image_style="shadow" text="KC Arora -" secondary_text="New York, NY" text_color="#ffffff" overlay_color="#dd3333″ link="url:http%3A%2F%2Fmrsoe.com%2F2016-north-american-tour%2Fkc-arora-2%2F||target:%20_blank"]
[wolf_linked_image image="1507″ image_size="portrait" image_style="shadow" text="Noah Gardenswartz -" secondary_text="Brooklyn, NY" text_color="#ffffff" overlay_color="#dd3333″ link="url:http%3A%2F%2Fmrsoe.com%2F2016-north-american-tour%2Fnoah-gardenswartz%2F||target:%20_blank"]
[wolf_linked_image image="1504″ image_size="portrait" image_style="shadow" text="Daniel Tirado -" secondary_text="Queens, NY" text_color="#ffffff" overlay_color="#dd3333″ link="url:http%3A%2F%2Fmrsoe.com%2F2016-north-american-tour%2Fdaniel-tirado%2F||target:%20_blank"]
[wolf_linked_image image="1826″ image_size="portrait" image_style="shadow" text="Cory Fernandez -" secondary_text="Los Angeles, CA" text_color="#ffffff" overlay_color="#dd3333″ link="url:http%3A%2F%2Fmrsoe.com%2Fmrsoe-comedians%2Fcory-fernandez%2F||target:%20_blank"]