About Noah Gardenswartz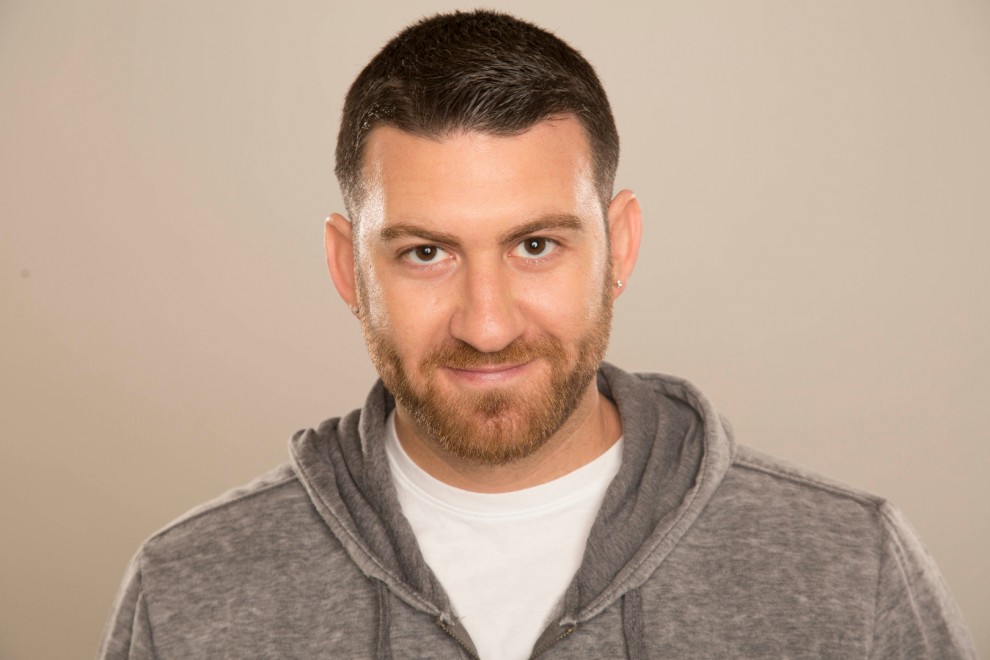 With the timing of a clock and the gracefulness of a swan, Noah Gardenswartz is a comedian that you should know about.  Always relaxed on stage, he has a wide range of material and a unique perspective on life. His well-crafted mix of jokes, observations and personal stories are all full of the cleverly dry wit that have made him a nationally booked up-and-comer.
Gardenswartz was born and raised in Denver, Colorado, but spent years cutting his comedy teeth in the diverse rooms of Atlanta, Georgia. Noah now lives in Brooklyn, New York, and when he's not touring, he performs several nights a week in New York City, and co-hosts a monthly show called "Comedy Freaknik" at The Creek and the Cave.
Before turning to stand-up full time, Gardenswartz worked as a journalist, hedge fund day-trader, and elementary school teacher.
His comedy has been featured on TBS' "Today's Riff," Bounce TV's "Uptown Comic," in VICE Magazine and the Huffington Post. He has performed for the Summit Series, the High Plains Comedy Festival, and the New York Comedy Festival, among others. In 2012, Noah was named a semi-finalist in NBC's "Stand Up For Diversity," and in 2014 he was selected as one of the "New Faces" at the prestigious Montreal Just For Laughs Comedy Festival.
[wolf_images_slider layout="mobile" slideshow_speed="6000″ ids="1589,1590,1591,1592″]
[wolf_video url="https://vimeo.com/116902926″]
[wolf_video url="https://www.youtube.com/watch?v=eRnpU-VXBgI"]
Be the first to find out when Noah and the 2016 MRSOE! Tour come to your city!
[wolf_buttons_container alignment="center"][wolf_button text="Get Notified!" color="border-button" url="http://eepurl.com/usUbb"][/wolf_buttons_container]
Like the MRSOE! Facebook Fan Page for ticket giveaways, tour dates, and more!
Or follow along with us on Twitter or Instagram!
[wolf_theme_socials services="facebook,twitter,instagram," type="circle" size="4x" target="_blank" hover_effect="fill-in" inline_style="margin-top:30px;" custom_style="yes" icon_color="#ffffff" icon_color_hover="#000000″ border_color_hover="#ffffff"]
Check out the other comedians on the MRSOE! 2016 North American Tour
[wolf_linked_image image="1496″ image_size="portrait" image_style="shadow" text="Dave Merheje -" secondary_text="Los Angeles, CA" text_color="#ffffff" overlay_color="#dd3333″ link="url:http%3A%2F%2Fmrsoe.com%2F2016-north-american-tour%2Fdave-merheje%2F||target:%20_blank"]
[wolf_linked_image image="1494″ image_size="portrait" image_style="shadow" text="KT Tatara -" secondary_text="Los Angeles, CA" text_color="#ffffff" overlay_color="#dd3333″ link="url:http%3A%2F%2Fmrsoe.com%2F2016-north-american-tour%2Fkt-tatara%2F||target:%20_blank"]
[wolf_linked_image image="1503″ image_size="portrait" image_style="shadow" text="Mia Jackson -" secondary_text="Atlanta, GA" text_color="#ffffff" overlay_color="#dd3333″ link="url:http%3A%2F%2Fmrsoe.com%2F2016-north-american-tour%2Fmia-jackson%2F||target:%20_blank"]
[wolf_linked_image image="1815″ image_size="portrait" image_style="shadow" text="KC Arora -" secondary_text="New York, NY" text_color="#ffffff" overlay_color="#dd3333″ link="url:http%3A%2F%2Fmrsoe.com%2F2016-north-american-tour%2Fkc-arora-2%2F||target:%20_blank"]
[wolf_linked_image image="1504″ image_size="portrait" image_style="shadow" text="Daniel Tirado -" secondary_text="Queens, NY" text_color="#ffffff" overlay_color="#dd3333″ link="url:http%3A%2F%2Fmrsoe.com%2F2016-north-american-tour%2Fdaniel-tirado%2F||target:%20_blank"]
[wolf_linked_image image="1826″ image_size="portrait" image_style="shadow" text="Cory Fernandez -" secondary_text="Los Angeles, CA" text_color="#ffffff" overlay_color="#dd3333″ link="url:http%3A%2F%2Fmrsoe.com%2Fmrsoe-comedians%2Fcory-fernandez%2F||target:%20_blank"]
[wolf_linked_image image="1827″ image_size="portrait" image_style="shadow" text="Cory "Zooman" Miller -" secondary_text="Atlanta, GA" text_color="#ffffff" overlay_color="#dd3333″ link="url:http%3A%2F%2Fmrsoe.com%2F2016-north-american-tour%2Fzooman-miller-2%2F||target:%20_blank"]