About Mia Jackson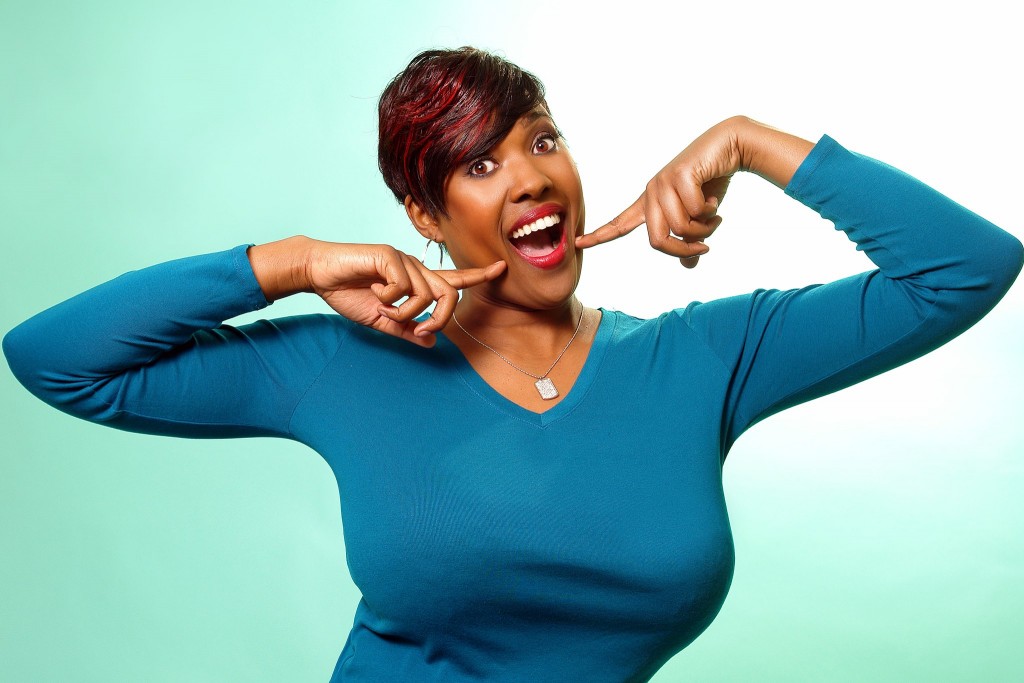 Mia Jackson, a native of Columbus, Georgia and a self proclaimed know it all, wondered what would happen if she took her sense of humor to the stage. That's exactly what she did! After graduating from the University of Georgia she hit the local comedy scene and has thrilled audiences since day one.
To her credit she has appeared on Oxygen's Girls Behaving Badly and TLC's Wild Weddings. She was also a writer on BET/Centric's re-launch of the Soul Train Awards in 2009 and 2010.   In 2012, Mia was a finalist in the Laughing Skull Festival.  She recently taped a spot on NickMom's Night Out.
Mia is a diverse comedienne with a different voice and perspective.  Her energetic conversational style leaves the audience feeling refreshed and as if they have known her forever.  Smart, funny, and versatile, Mia entertains all types of crowds.
[wolf_images_slider layout="mobile" slideshow_speed="6000″ ids="1576,1577,1578,1579″]
[wolf_video url="https://www.youtube.com/watch?v=NfMnXYNKzy0″]
[wolf_video url="https://www.youtube.com/watch?v=-H3bnhHZw50″]
Be the first to find out when Mia and the 2016 MRSOE! Tour come to your city!
[wolf_buttons_container alignment="center"][wolf_button text="Get Notified!" color="border-button" url="http://eepurl.com/usUbb"][/wolf_buttons_container]
Like the MRSOE! Facebook Fan Page for ticket giveaways, tour dates, and more!
Or follow along with us on Twitter or Instagram!
[wolf_theme_socials services="facebook,twitter,instagram," type="circle" size="4x" target="_blank" hover_effect="fill-in" inline_style="margin-top:30px;" custom_style="yes" icon_color="#ffffff" icon_color_hover="#000000″ border_color_hover="#ffffff"]
Check out the other comedians on the MRSOE! 2016 North American Tour
[wolf_linked_image image="1496″ image_size="portrait" image_style="shadow" text="Dave Merheje -" secondary_text="Los Angeles, CA" text_color="#ffffff" overlay_color="#dd3333″ link="url:http%3A%2F%2Fmrsoe.com%2F2016-north-american-tour%2Fdave-merheje%2F||target:%20_blank"]
[wolf_linked_image image="1494″ image_size="portrait" image_style="shadow" text="KT Tatara -" secondary_text="Los Angeles, CA" text_color="#ffffff" overlay_color="#dd3333″ link="url:http%3A%2F%2Fmrsoe.com%2F2016-north-american-tour%2Fkt-tatara%2F||target:%20_blank"]
[wolf_linked_image image="1504″ image_size="portrait" image_style="shadow" text="Daniel Tirado -" secondary_text="Queens, NY" text_color="#ffffff" overlay_color="#dd3333″ link="url:http%3A%2F%2Fmrsoe.com%2F2016-north-american-tour%2Fdaniel-tirado%2F||target:%20_blank"]
[wolf_linked_image image="1815″ image_size="portrait" image_style="shadow" text="KC Arora -" secondary_text="New York, NY" text_color="#ffffff" overlay_color="#dd3333″ link="url:http%3A%2F%2Fmrsoe.com%2F2016-north-american-tour%2Fkc-arora-2%2F||target:%20_blank"]
[wolf_linked_image image="1507″ image_size="portrait" image_style="shadow" text="Noah Gardenswartz -" secondary_text="Brooklyn, NY" text_color="#ffffff" overlay_color="#dd3333″ link="url:http%3A%2F%2Fmrsoe.com%2F2016-north-american-tour%2Fnoah-gardenswartz%2F||target:%20_blank"]
[wolf_linked_image image="1826″ image_size="portrait" image_style="shadow" text="Cory Fernandez -" secondary_text="Los Angeles, CA" text_color="#ffffff" overlay_color="#dd3333″ link="url:http%3A%2F%2Fmrsoe.com%2Fmrsoe-comedians%2Fcory-fernandez%2F||target:%20_blank"]
[wolf_linked_image image="1827″ image_size="portrait" image_style="shadow" text="Cory "Zooman" Miller -" secondary_text="Atlanta, GA" text_color="#ffffff" overlay_color="#dd3333″ link="url:http%3A%2F%2Fmrsoe.com%2F2016-north-american-tour%2Fzooman-miller-2%2F||target:%20_blank"]