About KC Arora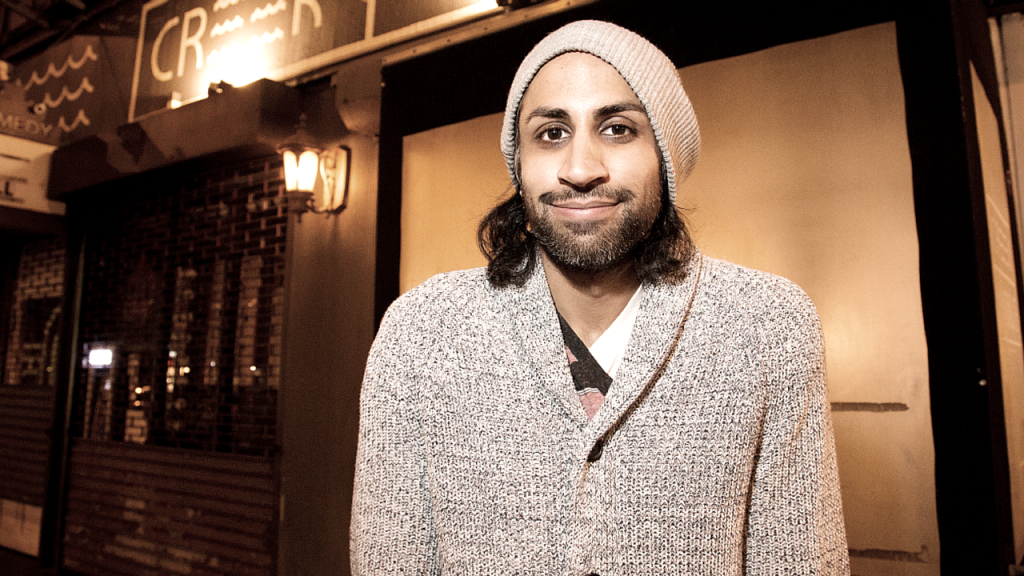 KC Arora is from Queens, but one look at him has complete strangers asking, "But where are you REALLY from?" KC shares his hilarious insights on being first generation Indian-American while navigating the ins and outs of relationships with women and the internet. KC has been a semi finalist in NBC's Standup for Diversity and NY's Funniest. He has also performed at several exclusive comedy festivals including Bridgetown, Sketchfest, Laughing Skull, etc. He is a regular on the New York Comedy scene and is making his way across the nation. Which nation? America, you racist.
[wolf_images_slider layout="mobile" slideshow_speed="6000″ ids="1608,1610,1611,1612″]
[wolf_video url="https://www.youtube.com/watch?v=sPAatSBdUcM"]
[wolf_video url="https://www.youtube.com/watch?v=GcOhBYCME8Q"]
Be the first to find out when KC and the 2016 MRSOE! Tour come to your city!
[wolf_buttons_container alignment="center"][wolf_button text="Get Notified!" color="border-button" url="http://eepurl.com/usUbb"][/wolf_buttons_container]
Like the MRSOE! Facebook Fan Page for ticket giveaways, tour dates, and more!
Or follow along with us on Twitter or Instagram!
[wolf_theme_socials services="facebook,twitter,instagram," type="circle" size="4x" target="_blank" hover_effect="fill-in" inline_style="margin-top:30px;" custom_style="yes" icon_color="#ffffff" icon_color_hover="#000000″ border_color_hover="#ffffff"]
Check out the other comedians on the MRSOE! 2016 North American Tour
[wolf_linked_image image="1496″ image_size="portrait" image_style="shadow" text="Dave Merheje -" secondary_text="Los Angeles, CA" text_color="#ffffff" overlay_color="#dd3333″ link="url:http%3A%2F%2Fmrsoe.com%2F2016-north-american-tour%2Fdave-merheje%2F||target:%20_blank"]
[wolf_linked_image image="1494″ image_size="portrait" image_style="shadow" text="KT Tatara -" secondary_text="Los Angeles, CA" text_color="#ffffff" overlay_color="#dd3333″ link="url:http%3A%2F%2Fmrsoe.com%2F2016-north-american-tour%2Fkt-tatara%2F||target:%20_blank"]
[wolf_linked_image image="1503″ image_size="portrait" image_style="shadow" text="Mia Jackson -" secondary_text="Atlanta, GA" text_color="#ffffff" overlay_color="#dd3333″ link="url:http%3A%2F%2Fmrsoe.com%2F2016-north-american-tour%2Fmia-jackson%2F||target:%20_blank"]
[wolf_linked_image image="1504″ image_size="portrait" image_style="shadow" text="Daniel Tirado -" secondary_text="Queens, NY" text_color="#ffffff" overlay_color="#dd3333″ link="url:http%3A%2F%2Fmrsoe.com%2F2016-north-american-tour%2Fdaniel-tirado%2F||target:%20_blank"]
[wolf_linked_image image="1507″ image_size="portrait" image_style="shadow" text="Noah Gardenswartz -" secondary_text="Brooklyn, NY" text_color="#ffffff" overlay_color="#dd3333″ link="url:http%3A%2F%2Fmrsoe.com%2F2016-north-american-tour%2Fnoah-gardenswartz%2F||target:%20_blank"]
[wolf_linked_image image="1826″ image_size="portrait" image_style="shadow" text="Cory Fernandez -" secondary_text="Los Angeles, CA" text_color="#ffffff" overlay_color="#dd3333″ link="url:http%3A%2F%2Fmrsoe.com%2Fmrsoe-comedians%2Fcory-fernandez%2F||target:%20_blank"]
[wolf_linked_image image="1827″ image_size="portrait" image_style="shadow" text="Cory "Zooman" Miller -" secondary_text="Atlanta, GA" text_color="#ffffff" overlay_color="#dd3333″ link="url:http%3A%2F%2Fmrsoe.com%2F2016-north-american-tour%2Fzooman-miller-2%2F||target:%20_blank"]