About Dave Merheje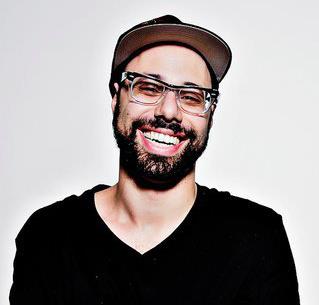 Drawing from his Lebanese-Canadian perspective and personal experiences straight from the streets, Merheje is unfettered by political correctness. His "no fear" approach to comedy has gained a loyal following. Pure raging energy, he is electric, aggressive and in-your-face. Nothing is sacred as he fires off on urban life, Middle Eastern politics, Islamic extremists, working in strip clubs, club culture, drugs and masturbation.
In 2014 Dave returned to Just For Laughs in Montreal, for his FOURTH appearance.  He won the 2013 Canadian On Campus Activities (COCA) Performer of the Year award, has been nominated for NOW Magazine's Best of Toronto "Best Male Stand-up", and shot several episodes for the upcoming television series Too Much Information on Super Channel!
In 2012 he joined the Gemini Award-winning pop culture series MTV Live as an on-air contributor and became a finalist in NBC's Stand-up for Diversity search and joined the Stand-up for Diversity College Touring Company performing at select colleges and universities across the US.
Merheje has performed with comedians Maz Jobrani, and Hannibal Buress. He has performed to sold-out crowds all over Canada and the US, including festivals such as Just For Laughs in Montreal, the New York Arab American Comedy Festival, the Boston Comedy Festival and top clubs such as The Knitting Factory in New York and The Improv in LA.
[wolf_images_slider layout="mobile" slideshow_speed="6000″ ids="1596,1597,1598,1599″]
[wolf_video url="https://www.youtube.com/watch?v=DcJvT4SarDU"]
[wolf_video url="https://vimeo.com/85386683″]
Be the first to find out when Dave and the 2016 MRSOE! Tour come to your city!
[wolf_buttons_container alignment="center"][wolf_button text="Get Notified!" color="border-button" url="http://eepurl.com/usUbb"][/wolf_buttons_container]
Like the MRSOE! Facebook Fan Page for ticket giveaways, tour dates, and more!
Or follow along with us on Twitter or Instagram!
[wolf_theme_socials services="facebook,twitter,instagram," type="circle" size="4x" target="_blank" hover_effect="fill-in" inline_style="margin-top:30px;" custom_style="yes" icon_color="#ffffff" icon_color_hover="#000000″ border_color_hover="#ffffff"]
Check out the other comedians on the MRSOE! 2016 North American Tour
[wolf_linked_image image="1504″ image_size="portrait" image_style="shadow" text="Daniel Tirado -" secondary_text="Queens, NY" text_color="#ffffff" overlay_color="#dd3333″ link="url:http%3A%2F%2Fmrsoe.com%2F2016-north-american-tour%2Fdaniel-tirado%2F||target:%20_blank"]
[wolf_linked_image image="1494″ image_size="portrait" image_style="shadow" text="KT Tatara -" secondary_text="Los Angeles, CA" text_color="#ffffff" overlay_color="#dd3333″ link="url:http%3A%2F%2Fmrsoe.com%2F2016-north-american-tour%2Fkt-tatara%2F||target:%20_blank"]
[wolf_linked_image image="1503″ image_size="portrait" image_style="shadow" text="Mia Jackson -" secondary_text="Atlanta, GA" text_color="#ffffff" overlay_color="#dd3333″ link="url:http%3A%2F%2Fmrsoe.com%2F2016-north-american-tour%2Fmia-jackson%2F||target:%20_blank"]
[wolf_linked_image image="1815″ image_size="portrait" image_style="shadow" text="KC Arora -" secondary_text="New York, NY" text_color="#ffffff" overlay_color="#dd3333″ link="url:http%3A%2F%2Fmrsoe.com%2F2016-north-american-tour%2Fkc-arora-2%2F||target:%20_blank"]
[wolf_linked_image image="1507″ image_size="portrait" image_style="shadow" text="Noah Gardenswartz -" secondary_text="Brooklyn, NY" text_color="#ffffff" overlay_color="#dd3333″ link="url:http%3A%2F%2Fmrsoe.com%2F2016-north-american-tour%2Fnoah-gardenswartz%2F||target:%20_blank"]
[wolf_linked_image image="1826″ image_size="portrait" image_style="shadow" text="Cory Fernandez -" secondary_text="Los Angeles, CA" text_color="#ffffff" overlay_color="#dd3333″ link="url:http%3A%2F%2Fmrsoe.com%2Fmrsoe-comedians%2Fcory-fernandez%2F||target:%20_blank"]
[wolf_linked_image image="1827″ image_size="portrait" image_style="shadow" text="Cory "Zooman" Miller -" secondary_text="Atlanta, GA" text_color="#ffffff" overlay_color="#dd3333″ link="url:http%3A%2F%2Fmrsoe.com%2F2016-north-american-tour%2Fzooman-miller-2%2F||target:%20_blank"]