MRSOE! (The Most RACES Show on Earth!) is coming to Charleston, SC!  The Charleston City Paper and the Charleston Music Hall Present…MRSOE! @ The 918 seat Charleston Music Hall on Saturday, June 21, 2014.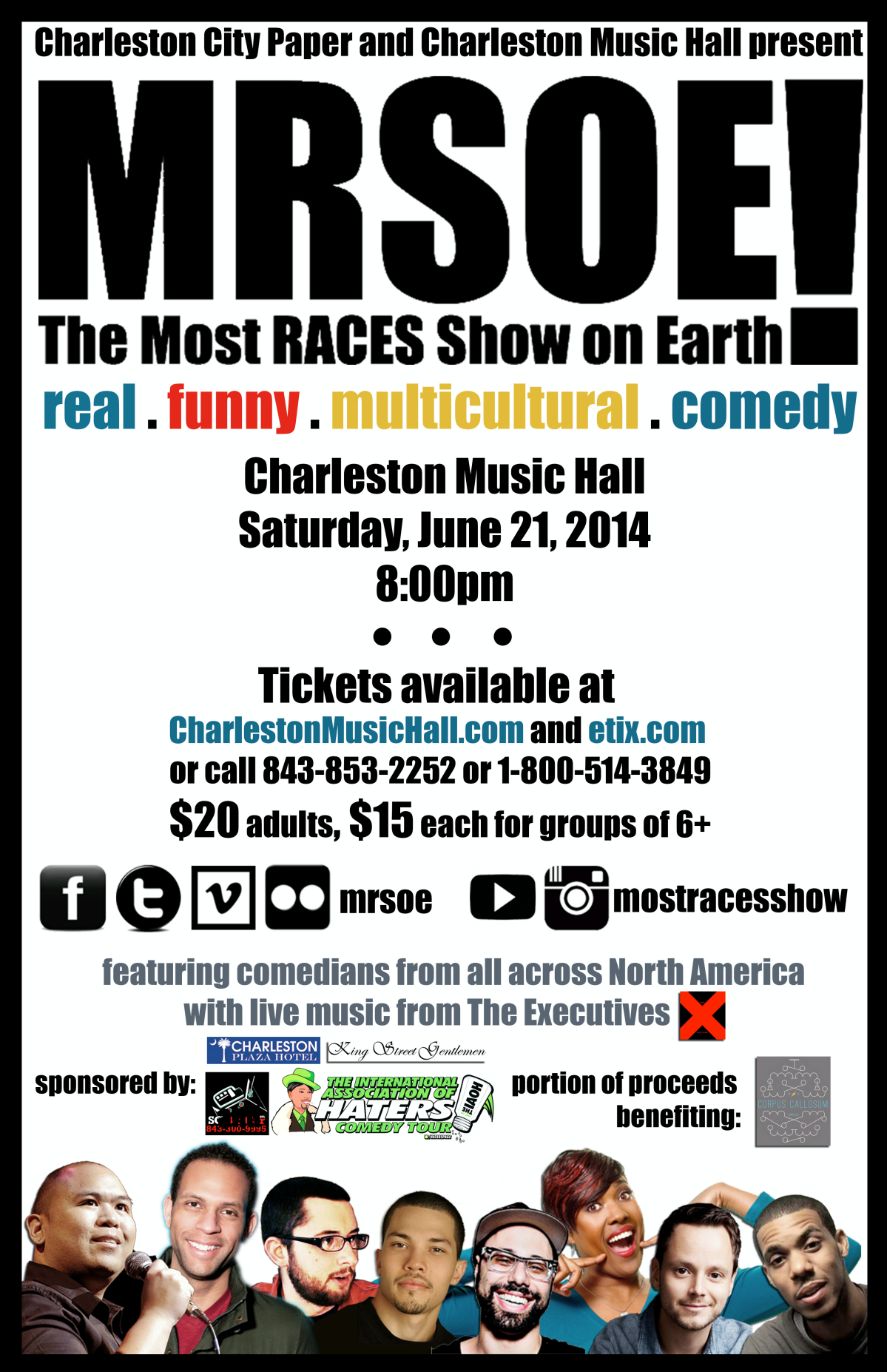 MRSOE! (The Most RACES Show on Earth!) is North America's premier multicultural stand-up comedy show.
We put together the funniest comedians of all different nationalities to show that FUNNY IS FUNNY no matter what culture, creed or color you are! Each comedian featured on the show delivers the NO-HOLDS-BARRED material of their choice, and while not every joke is about race, each comedian will showcase their best material offering a FAST-PACED show of filler-free comedy.
MRSOE! is real. funny. multicultural. comedy.
Performing at MRSOE! Charleston will be:
Daniel Tirado, Polish/Peruvian (Gotham Comedy Live, Montreal)
Mia Jackson, African-American(Punchline, Atlanta)
Cory Fernandez, Puerto Rican(Def Comedy Jam, NYC)
Clayton English, African-American(Improv, Atlanta)
Dave Merheje – Lebanese-Canadian (Just for Laughs, Toronto)
Caleb Synan – American (Laughing Skull, Atlanta)
Special guest opener (Winner of the MRSOE! RACE to the Stage Comedy Competition) – Jason Farr (Alchemy Comedy, Greenville, SC)
Hosted by: Neil Bansil – Filipino/Canadian/American (Creator/Producer MRSOE!, Charleston, SC)
Featuring Live Music by: The Executives
A portion of the proceeds will go to local non-profit Corpus Callosum – teaching kids to be great!
The Most RACES Show on Earth! takes place on Saturday, June 21 at 8:00 p.m., doors open at 7:00pm. Tickets are $20.00; $15.00 for groups of six or more.
For tickets, please visit etix.com or visit the Charleston Music Hall box office in person at 37 John Street or call 843-853-2252.
Street Parking around the Charleston Music Hall is FREE! but there are also a number of paid parking lots available nearby:
0.1 Miles – 47 John St.
0.1 Miles – 375 Meeting St.
0.1 Miles – 63 Ann St.
0.1 Miles – 399 King St.
0.2 Miles – 81 St. Phillips Street
0.2 Miles – 366 King St.
Watch a video from our last show!

Posted by mrsoe and tagged as Caleb Synan, Clayton English, Corpus Callosum, Cory Fernandez, Daniel Tirado, Dave Merheje, Jordan Miller, Mia Jackson, MRSOE Charleston Music Hall, Neil Bansil, The Executives